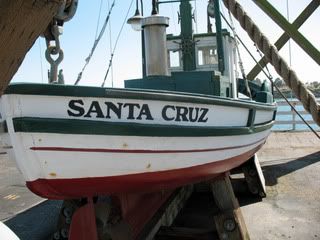 Of course, if you know me you know my love for the California Coast. My favorite area is from Half Moon Bay right on through Big Sur. Smack dab in the middle of all that is Santa Cruz and it's surrounding towns. There is just something so magical about the tall evergreens and redwoods next to the giantness of the Pacific Ocean. I'm so happy I live and play here.
For Roberts birthday we spent the weekend in Santa Cruz. We stayed at the Howard Johnson on W.Cliff Drive. It was by no means five star accommodations but it had a view of the wharf, and was a very short walk to the Boardwalk. Not to mention the price was right. Life is good if you can see the ocean from your room!
We walked the wharf and said hi to the sea lions, and they (of course) barked back! It's quite a sight, if you've never seen them.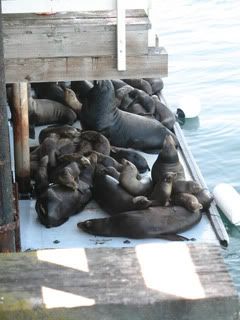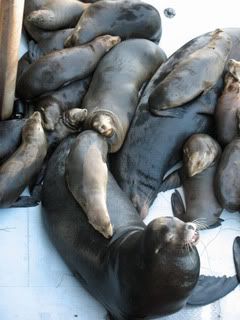 Later that night we heard A LOT of sirens going to the wharf. Then we saw and smelled the smoke. We finally heard on the news (you can read a newspaper article
here
) there was a grease fire in one of the restaurants. Luckily there was only minimal damage and it was business as usual the next day.
On Saturday we went to the Boardwalk.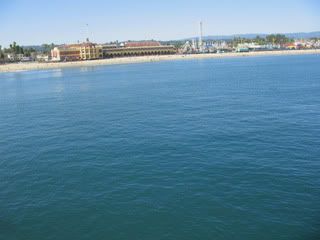 We stopped to watch a little of a volleyball tournament that was going on. There was so much eye candy it gave me a toothache! ; )
We played skee ball.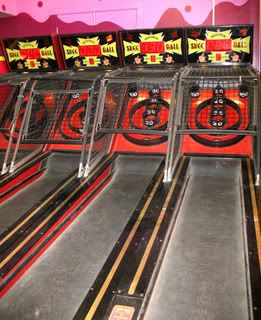 Which Rob ALWAYS calls skeet ball. He also pronounced onions "ungions". Yes, true story..I teased him to no end and he and I practiced the pronunciation for what seemed like months. He now says "onions".
We took pictures in a photo booth, which has always been a tradition of mine. Oh how I wish there were more photo booths in the world!
I had the best corn dog in the whole wide world!
Nice and crunchy on the outside, and warm sweet and soft on the inside, dipped in mustard...I was in heaven for the 2.5 seconds as I inhaled it. Mmmmmm...
Sorry for the blurry pic...it was too yummy to take a proper picture! heehee!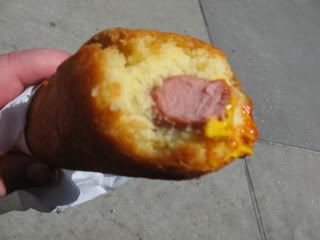 Now...I NEVER...EVER leave the boardwalk without a stop a Marini's. (You can order online
right here
) They make beautiful, colorful, and yummy taffy as well as tons of other candy. They have windows were you can see them make their sweet calorie filled goodness. This time, I got a milk chocolate covered strawberry and a chocolate covered chocolate chip cookie.
Later that evening we went to
Seabright Brewery
. We had a Red and a Oatmeal Stout.
I like dark beer, but I am noticing lately beer makes me break out in a red rash in my face and chest. Lovely isn't it?!
There was a surprisingly older crowd for Seabright. (Like late 40's-50's) I think it may have been the band. Forgive me I don't remember the name, but it was a loud bluesy rock band.
We didn't stay long, and took growlers back to the hotel. There was one guy at the bar who said, "Wow! That's how you take your pitchers to go?!" He had never seen growlers before, despite all of the growlers hanging up around the bar that are imprinted with Seabright Brewery. OK sir..maybe it was his first time in a brewery..?
We saw a man with a thorn crown and tie dye shirt playing a wooden flute walking down the street...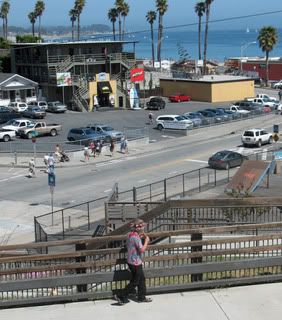 We saw a pay phone! Yes they still exist!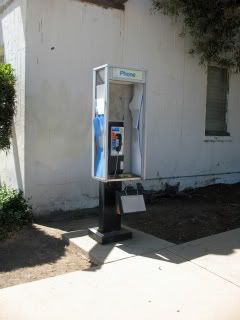 We saw kids going to eat on the wharf before their prom. (Look Carrie a bright orange dress!)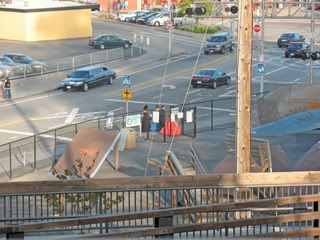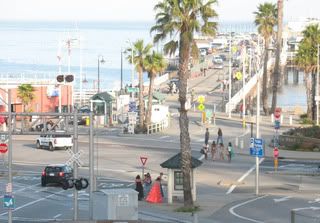 Another fantastic trip to Santa Cruz! I hadn't been there in quite a while, and as always I feel like I've left a piece of my heart there.