I don't know where all these 12x12 layouts are coming from?! I have always been an 81/2x11 single page (or smaller) kind of girl. However, when I went to
Michaels
a few weeks ago they were out of my smaller preference so I got the 12x12 with the understanding I would cut it down. Half a dozen pages later...I'm kind of liking the 12x12 format. Let's see how long that lasts! ; )
This double page layout is about a familiar path we walk a few times a day when we are at
Pfeiffer Park
. I used self adhesive cork for the
Elsie inspired treasure map
. This cork is freaking fantabulous! I picked up mine at my local
Target
.
The patterned paper and the other embellishments are from the
friendly forest line by colorbok
.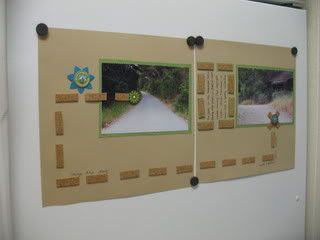 Detail on left page:
The flower on the upper right reads Cherished memories. Along the cork I wrote Seize the day... (in
sharpie
marker)
Detail on right page: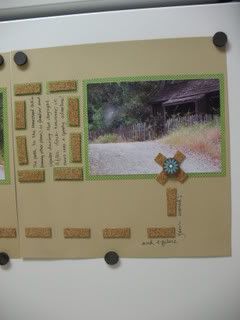 The bottom right I wrote ...and explore your world!
Journaling reads:
The path to the Homestead Cabin (among other places) is familiar and popular during the daylight. After dark however, it turns into a spooky adventure!
Thanks for taking a peek!